When you are starting an online or offline business the first thing comes to play is getting a visually appealing logo to make an everlasting impression on customers. Surely it's best to consult a professional graphics designer but it will cost an average of $200 and may take up to 1-week depending various factors. So, if you are in a hurry and have a limited budget, go for online logo designing software like Designevo.
What is Designevo?
Designevo was launched as a completely free product by online photo editing software company Fotojet later they introduced two premium plans. I'll share the details of the premium plans details later on. There are several free and premium logo making software available online but they are mostly limited to a couple of hundreds of ready to use templates. But with Designevo you have the option to choose from more than 4000 pre-made designs classified according to the niche. Also if you want to get creative they offer an option to start from scratch.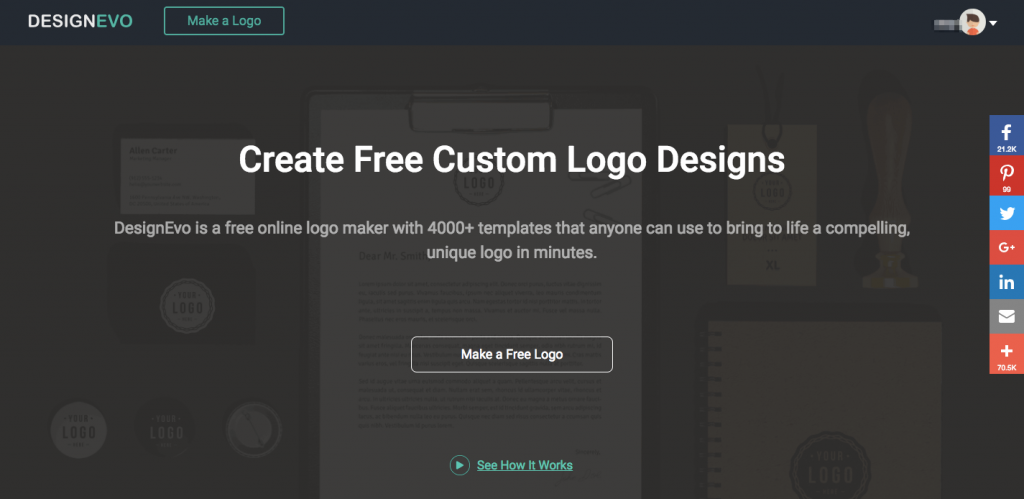 Start Designing a Logo
Unlike most of the online logo designing websites, Designevo team have developed a very easy to use workflow. Navigate to their homepage and click on "Make a Free Logo" it will take you directly to the template browser. Search for the category that best describes your business in the "Search Templates" or click on "Start from Scratch".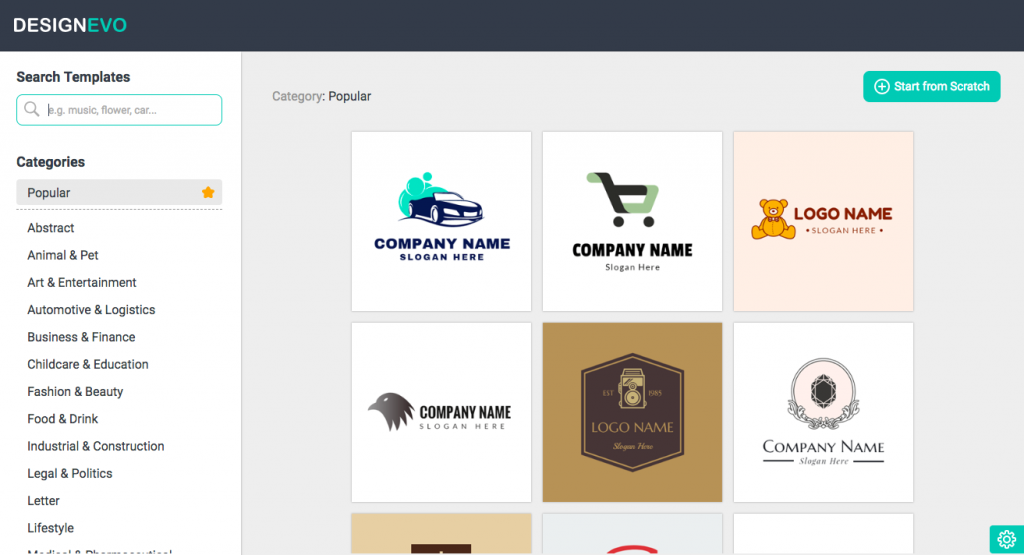 If you have chosen any of the available templates it will prompt you for the company name and tagline but you can skip it and modify later on. Then you will be redirected to the customization dashboard featuring all the modification options like font, shapes, and icons. Also, this panel has a preview option to get an idea how your logo will look like in various printed and online media. This feature makes Designevo standout from the crowd, I've seen this only in a couple of websites where the preview only limited to business cards.
The customization panel also has a background color, layout management and logo downloading option. Though there is a save option it will only work after you register an account. On the download page, they have all the packages listed as well as a free plan. The free plan will not require any charges but to download the logo you will need to share about Designvo on your social media, blog or website.
Features
Logo designing dashboard has a large collection of icons, shapes, and text styles. According to Designevo, they actually have nearly a million of icons designed by professionals to choose from. Search anything in the icon search panel and it will not disappoint you.
Now comes the turn of text styling, in the text tab they have more than 100 classic and word art styles with font size, color, effects and formatting controls. The word arts may seem like they fixed text styles but you can select an art and change font without losing the effects.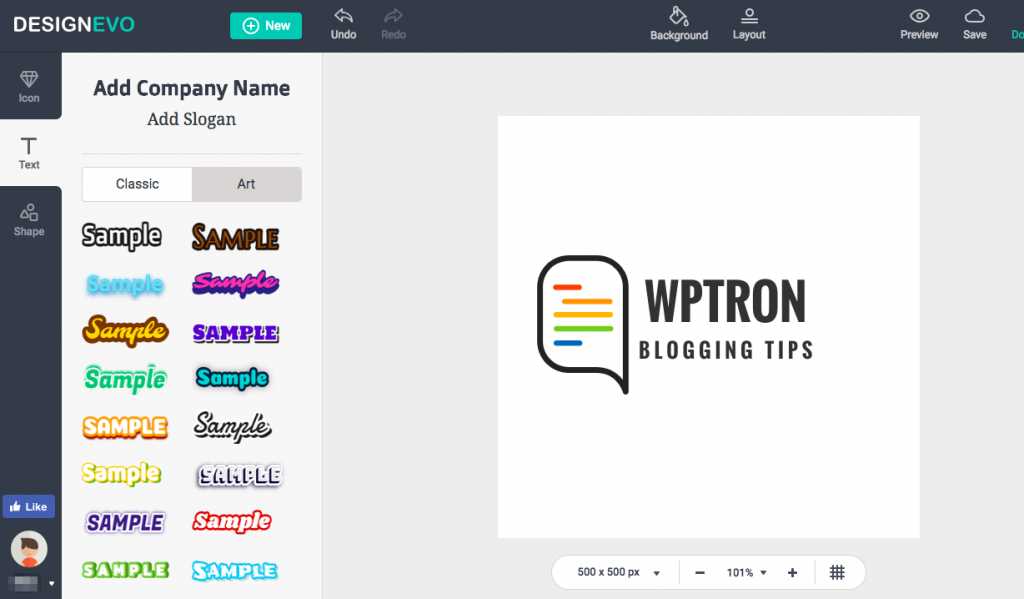 Apart from the icons Designevo also offers a unique collection of shapes categorized into seven different groups to decorate the logos further. These icons come very handily when you are designing a logo for an event.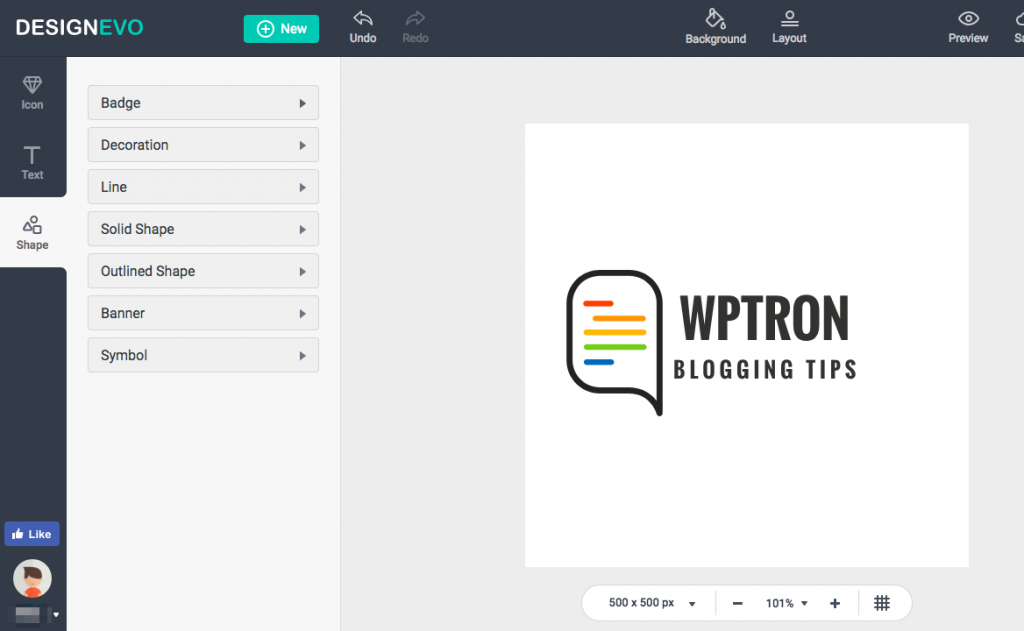 Plans
Currently, they offer three packages to choose from FREE, BASIC and PLUS. With the free plan, you will get two 500 x 500px copies of the logo(.jpg and .png) with background. In both BASIC and PLUS, you get high res print-ready version of the logo (5000 x 5000 px), a PNG with transparent background, lifetime support, re-downloading, modifying options but the vector pdf, svg and right to register a trademark option is available exclusively on PLUS plan.
Pros
Very easy to use and get started instantly.
A vast inventory of icons and shapes to choose from.
No login sign up required.
Free logo download option available.
Cons
No text formatting options line gradient fill will be appreciated.
Option to upload custom shape or icon is missing.
Availability
As a web application Designevo is available for all the platforms, for offline usage Desktop version is available for macOS for $9.99 and Windows application is on its way. Also, they have free Android and iOS apps available on respective app stores.
Final verdict
Free online logo designer by Designevo is a great tool to try your hands. This will help you to save both money and time on getting a unique identity of your brand.
Currently, they are offering up to 60% discount on all premium packages.
Designevo is affordable and easy to use online tool for making custom logos online within minutes. It offers more than 4000 ready to use professional quality templates grouped into ~20 categories.